Inter Ordnance AR-15 9mm & 5.56 Pistols – A Green Beret Evaluation
 –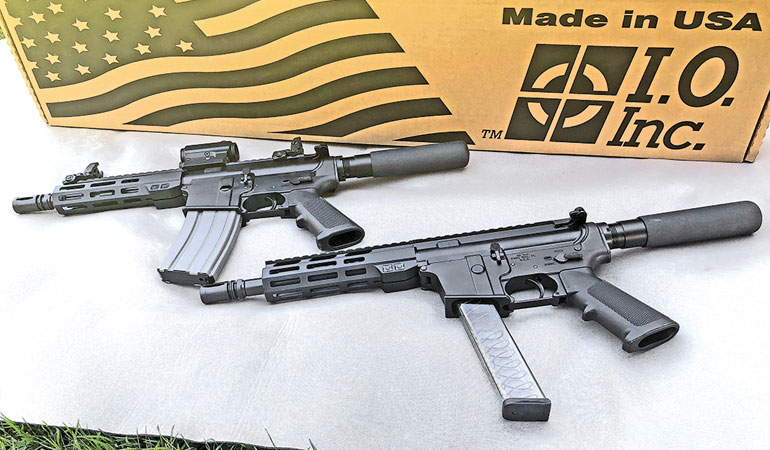 Photography by Janet L. Morris

Interesting Observations come at us like current political trade-winds when the subject of AR-15-style pistols come up, as well as anything remotely related to them. "Interesting" is an understatement. Intoxicating and uneducated observations are more like it. Especially what is legal, right, wrong, or indifferent about the use of them when a shooter wants to take up a proper rifle stance/position with an AR pistol. I am not going to split those hairs in this article, as I want to emphasize the proposed quality and usefulness of Inter Ordnance's additions to its AR-15 product lines. As I write this, Uli Weigand and his I.O. firearms company are still under scrutiny in respect to past AK-47 rifle production. Is this scrutiny warranted with these new AR guns? By the end of this article, I want you to have enough facts to make your own decision.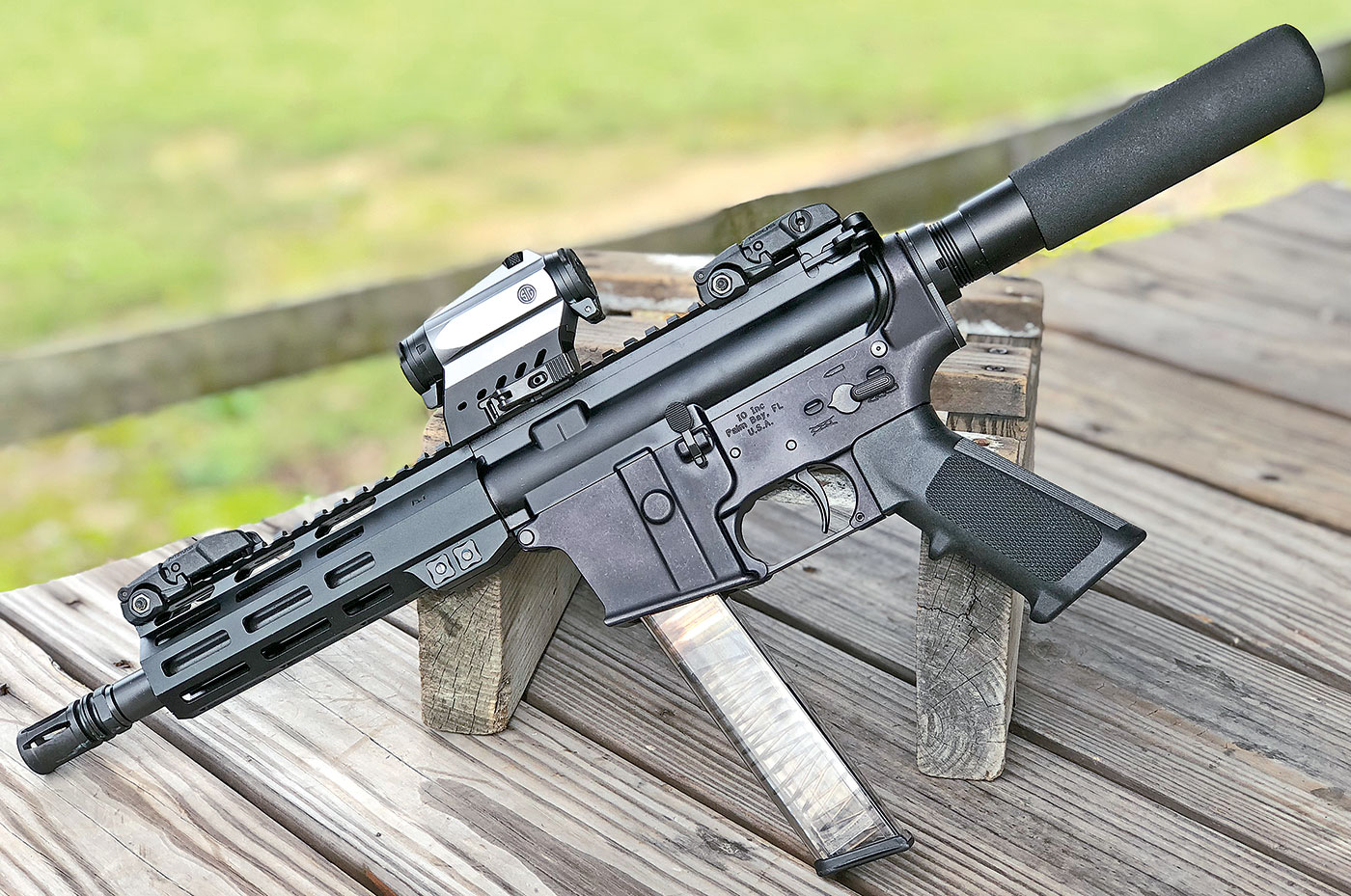 After having done general, specific, and historical, open-source research on I.O., I have concluded that folks on social media still don't like I.O. and its AK-47 rifles. From talking to I.O. Inc. owner, Uli Wiegand, and asking hard questions to others outside his company, I feel the company is trying its best to make amends for previous AK-47 problems and also honor those customers by replacing or repairing their guns. Everyone makes mistakes, even professionals in the gun industry. How a person and/or company recovers from those mistakes and carries himself forward is the testimony of a true professional. The testimony will be how he manages, corrects, services, and overcomes the mistake with regards to the customer. This will showcase his commitment to excellence or not. But hey, we are here to talk about AR-15-style pistols and their usefulness in this brave, new world of arm braces and Personal Defense Weapons-PDWs. As my editor told me after taking on this article, "JD, it's 2018; I feel it would be really hard to screw up the manufacturing or parting together of an AR-style rifle or pistol, especially in 5.56mm."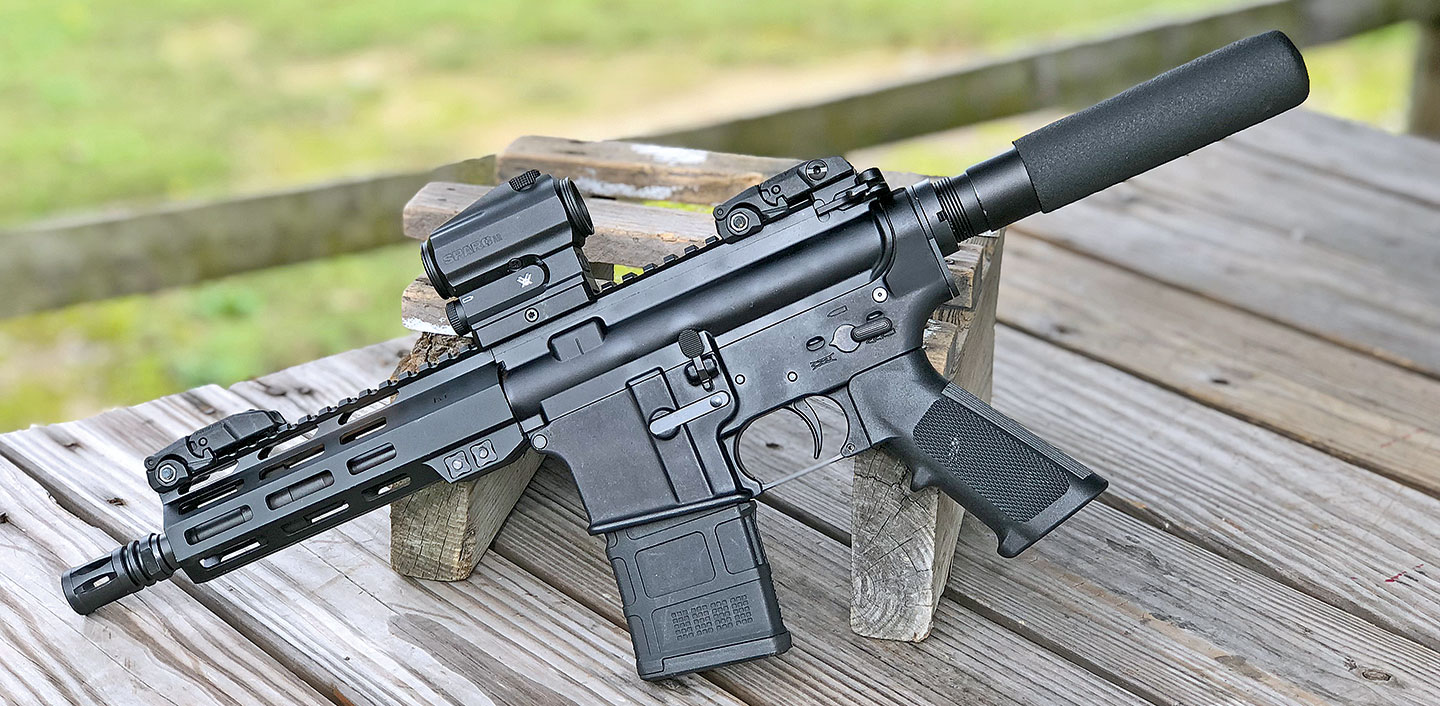 From its new website, Inter Ordnance has been in business for 20 years. Having moved from North Carolina to Palm Bay, Florida, I.O. purchased new machines and equipment to manufacture "high quality firearms." The company states it has been producing American-made rifles in Florida since 2008. Let's take a hard look at these two AR-15 pistols.Upon receiving the two pistols, I immediately wanted to test fire them without any sights or optics. I did this to make sure the two guns operated continuously and safely. During this type of test fire, I shoot between 20 and 50 rounds of factory range ammunition. I alternate between different types of magazines for each caliber and execute speed reloads. Shooting from a safe and sturdy two-handed, standing position is what I recommend. I use different rates of fire and shoot at close range; five to seven yards. During this test, the two I.O. AR pistols operated flawlessly.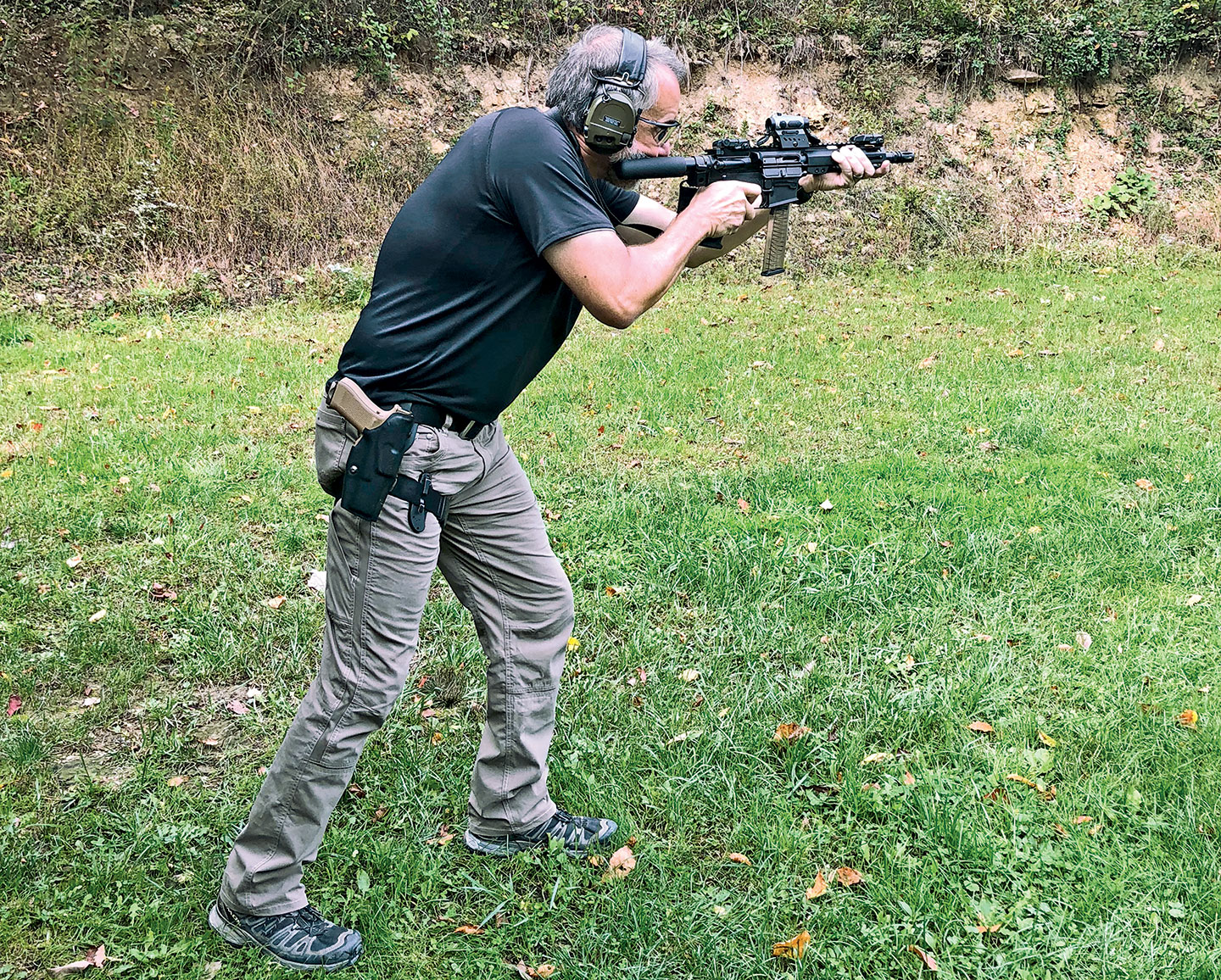 Now it is time to look at the guns, both outside and inside. First the AR-15 pistol in 5.56. This M215 ML-7 in 5.56×45 NATO with 7.5-inch barrel comes with a seven-inch pistol buffer tube with a foam rubber sleeve around the tube. The top rail portion on the upper receiver has a Mil-STD 1913 Top Rail, and over the barrel is a seven-inch M-Lok free-float rail. This rail is also Mil-STD 1913, but has the center groove. The M215 5.56 has an I.O. Inc. lower and upper receiver made from 7075-T6 forgings. Mil-Spec forward assist, dust cover, brass deflector, and charging handle are included with the M215 5.56. The pistol grip is a Mil-Spec A2 grip. The trigger guard is standard and straight. The flash suppressor is a Colt AR-15/M16A2/M4 flash suppressor/compensator cage with slots. The magazine-release button and bolt-catch paddle are standard. The M215 5.56 does not come with flip-up sights. The M215 5.56 came with a single C Products Defense-CPD, 30-round aluminum magazine. I really like the detail of the American flag etched on the right side of the magazine well. Thank you, I.O.!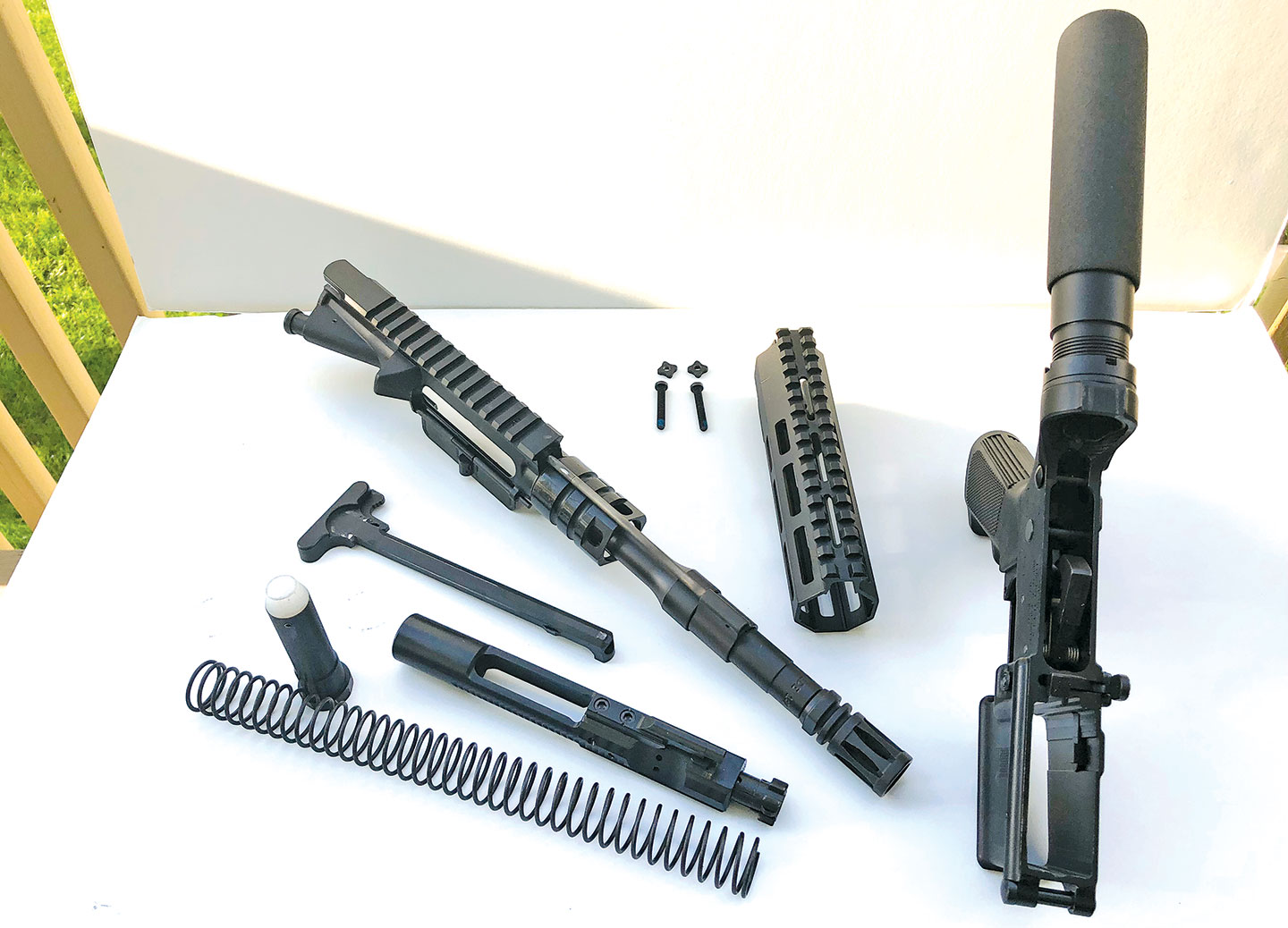 On the inside of the M215 5.56, the lower parts are all Mil-Spec standard. Inside the buffer tube is a pistol-length action spring and an AR-15 pistol-weight buffer. The bolt-carrier group consists of standard Mil-Spec parts. Taking off the seven-inch M-LOK free-float rail is simple by removing two hex screws at the bottom, rear portion of the rail. This will expose the barrel, barrel nut, gas tube, and gas block. The 7.5-inch barrel on this gun is chambered in .223 Wylde with M4 feed ramps. The pistol gas tube and low-profile gas block are standard.Next, the M215 9mm M-LOK 7 AR-15 pistol. This M215 9mm also comes with a 7-inch buffer tube with a foam rubber sleeve around the tube. The barrel is a threaded, 7.5-inch barrel, with the same type of flash suppressor/compensator cage with slots as the M215 5.56. The top rail on the upper receiver is the same as the M215 5.56. The M-LOK free-float rail over the barrel is also identical to the M215 5.56 model. The upper and lower receivers are also made from 7075-T6 aluminum forgings. The dust cover, brass deflector, charging handle, pistol grip, trigger guard, and bolt-catch paddle are the same Mil-Spec standards as the M215 5.56. The forward assist is present on the upper receiver, however, does not serve that function due to the 9mm dedicated Bolt Carrier Group. The magazine-release paddle and lever are on the right side of the magazine well. The paddle is large and is just above the front portion of the trigger housing. This works well, as the magazine well is thick and made for Glock-style 9mm magazines only. The M215 9mm does not come with flip-up sights. This 9mm gun came with a single Elite Tactical Systems-ETS, 9mm, 31-round Glock-style magazine.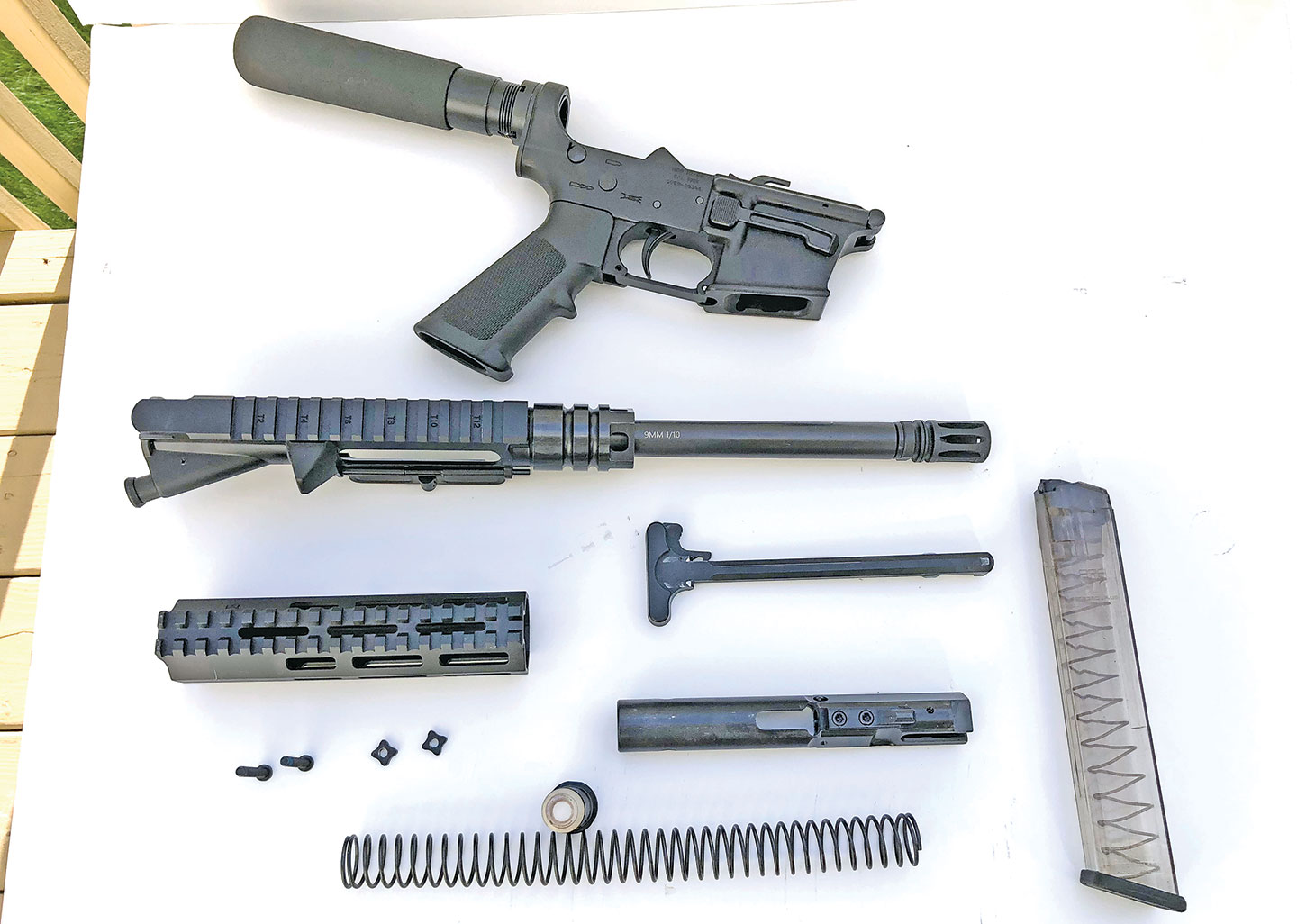 The inside of this AR-15 pistol is a bit different. The lower parts kit is standard Mil-Spec and for an AR-style, 9mm, specific lower. The trigger group is AR-15 standard with the hammer. On top of the magazine well is the ejector. The magazine well is Glock 9mm magazine specific, which is excellent for me, because I shoot and carry Glock handguns! Inside the M215 9mm upper receiver, the bolt-carrier group is ramped for the AR-15 trigger group and is Glock 9mm specific. This type of 9mm AR pistol system is direct recoil operated. So, after taking off the M-LOK free-float rail around the barrel, there is no gas port, gas tube, or gas block to worry about. The I.O. website advertises "Last Round Bolt Hold Open" or LRBHO features for this 9mm model; however, this gun's bolt did not hold open on the initial test fire. I called Uli Wiegand, and he reported that I.O. offers this model of gun in both types of bolt-locking function after the final round is fired. I am comfortable with either type of gun, however, the novice shooter needs to be prepared for the bolt locking forward on an empty gun. Using the bolt catch, the shooter can still manually lock the bolt carrier group to the rear.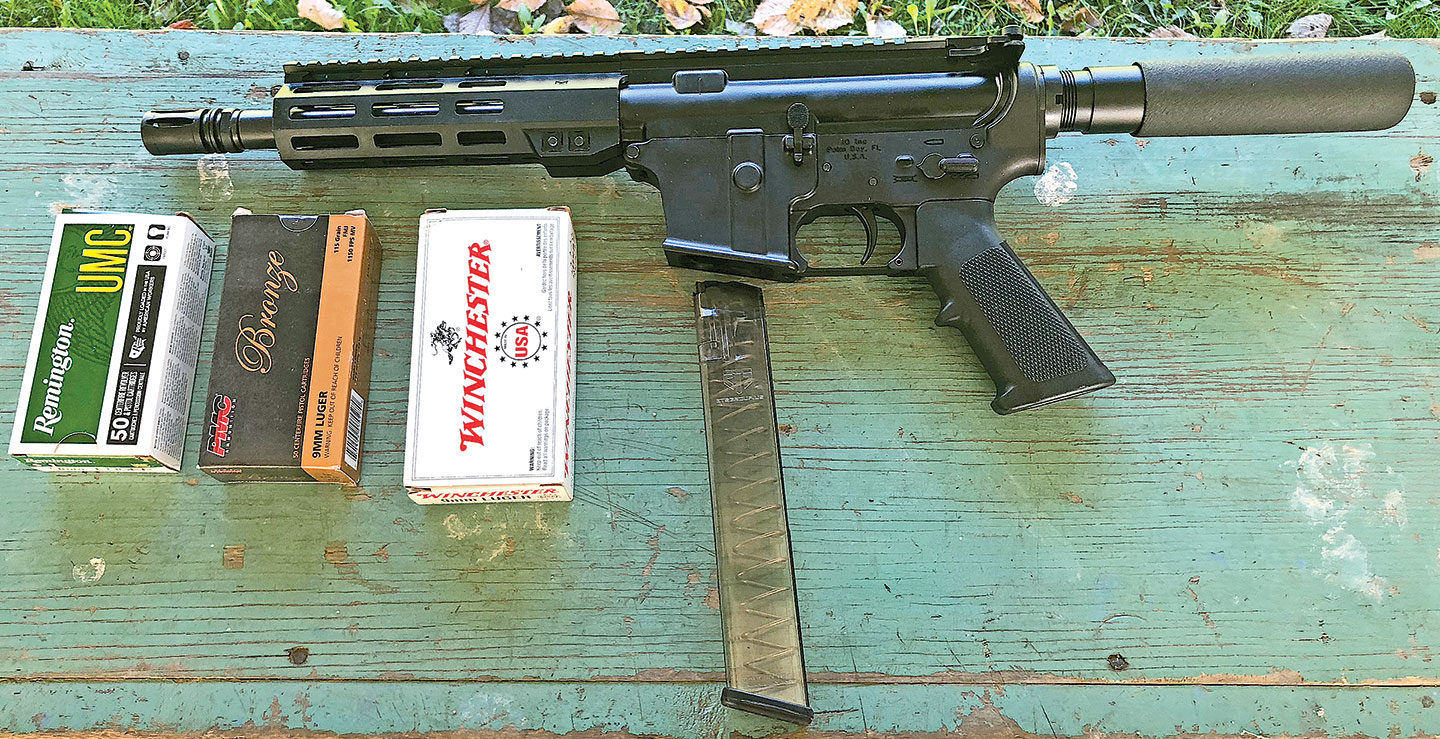 Whew, enough of that technical stuff! Now we were ready to really test these AR pistols! I mounted MAGPUL, MBUS front and rear flip-up sights on both guns. Having two red-dot sights lying around, I pulled them for use on the I.O. guns. I mounted a Vortex SPARC AR on the M215 5.56, and the SIG Sauer ROMEO 4 on the M215 9mm. Both red-dot sights are non-magnified. I kept everything else standard on the guns for the zeroing process. Janet, my lovely wife, tactical training partner, and smartphone photographer, was excited to help on this training and testing range day. We headed off to our favorite quiet and isolated firing range.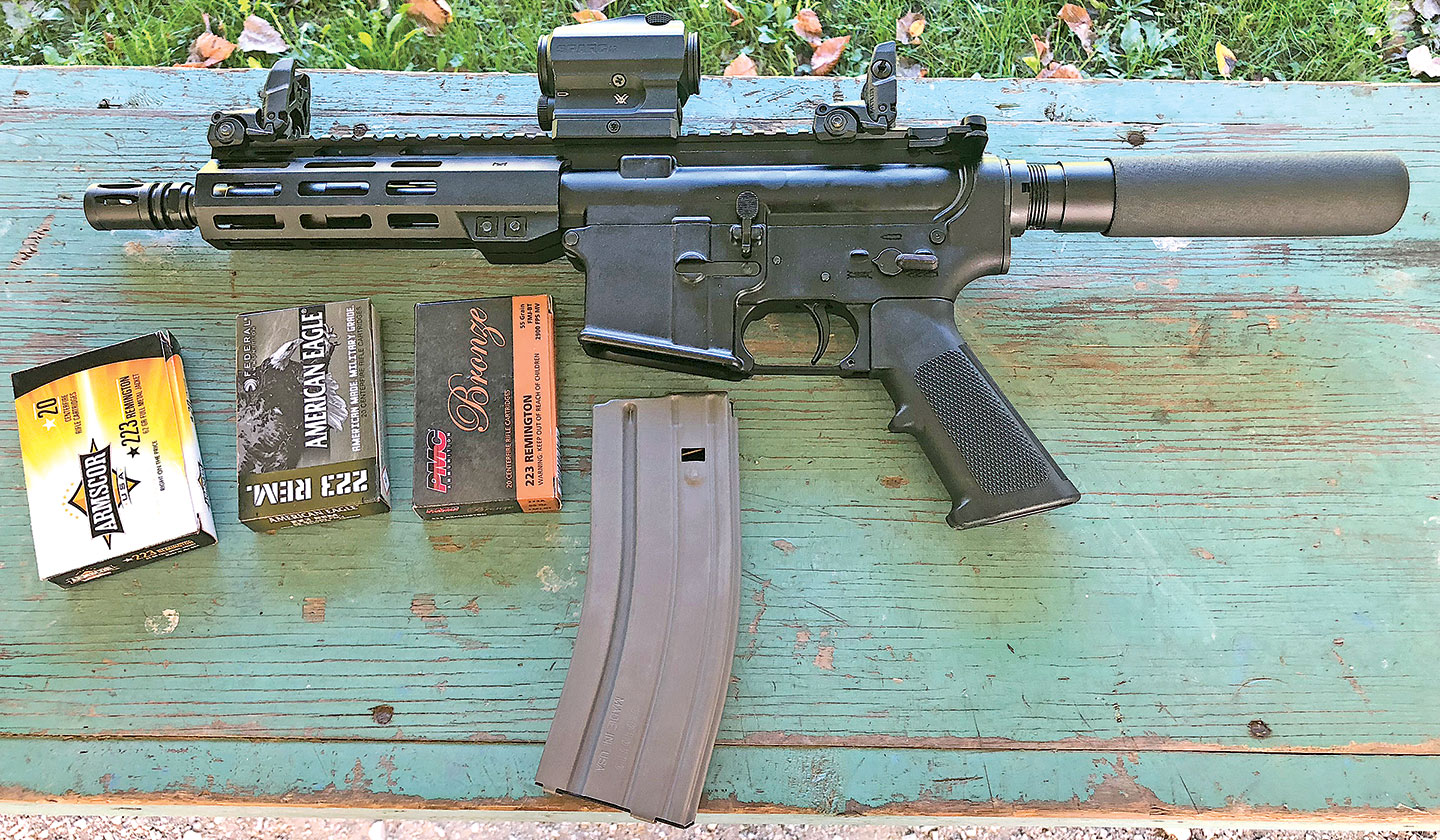 We decided to zero both guns at 25 yards. I used a bench and heavy shooting bags to stabilize the front ends on both guns. Now came the harder part. Keeping the rear of the gun stable and getting three solid points of contact while zeroing this type of pistol can be difficult, even frustrating! Not having a butt stock is still no excuse to sacrifice principles of marksmanship. Take your time and remember the fundamentals of precision shooting, even with a very short gun. (I will invest in a gun vise for future testing and one which locks in an AR-style pistol grip while locking down the barrel, regardless of overall length of the gun.) The zero process for both guns went quickly and was simple.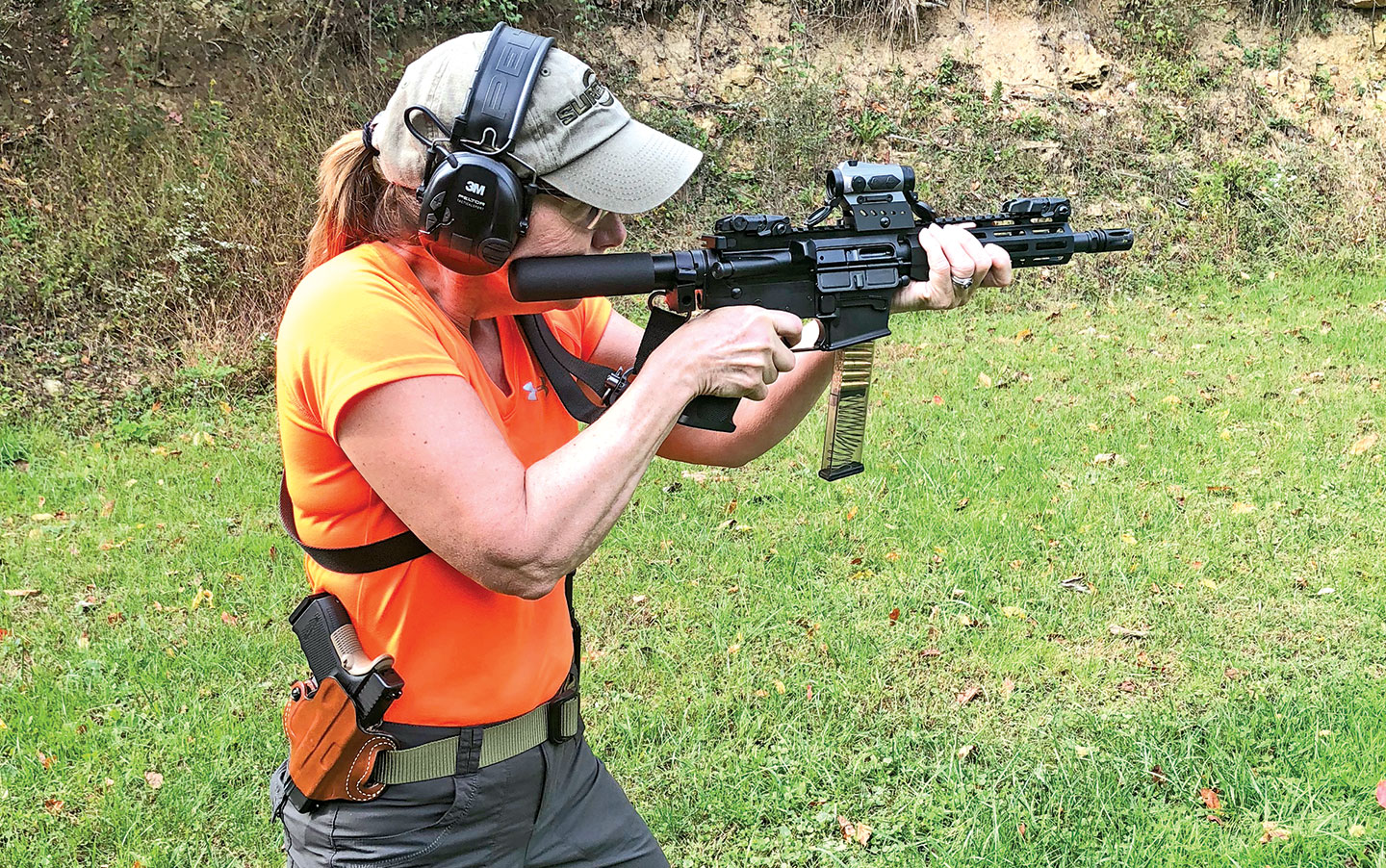 Next, I set up torso targets on the board and prepared Close Quarters Battle (CQB) shooting drills for Janet to execute at five to seven yards. She picked up the M215 9mm first and performed "up drills" as if she were getting ready for building entry or home defense. The gun performed extremely well, and she had no problem changing back and forth between her cheek and front shoulder to stabilize the buffer tube. After that, she picked up the M215 5.56 and shot the same drills just as crisp and clean as with the 9mm pistol. Janet has more time with AR-15-style, 5.56 guns, so she may be biased. On this day however, she ran both I.O. pistols like a true "assaulter." She returned to taking pictures and, yes, I had to work both pistols at CQB shooting drills distance. I may have to practice over the winter, as she is catching up with me on CQB-style shooting.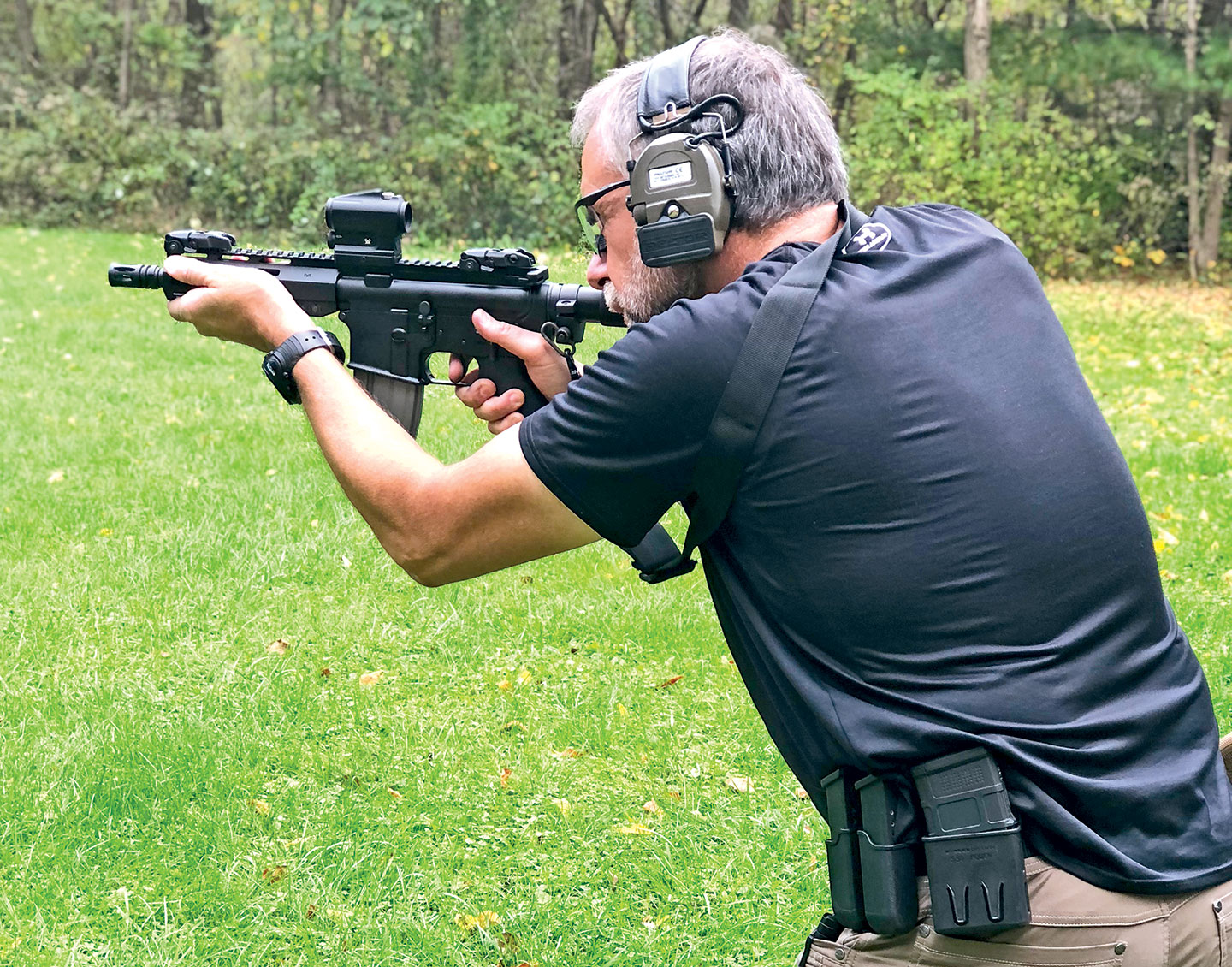 Next, I wanted to check both AR pistols for longer-range accuracy. I fired five-round groups with all three types of ammunition at 50 yards with the M215 9mm, and at 100 yards with the M215 5.56. To do this, I used a Leupold VX-R 1.25-4×20 duplex reticle scope (retrieved from the basement cache) for better target acquisition at those distances. I had been using this simple AR-15 and hunting-style scope on carbine-length AR-15 rifles. The scope was already fitted with Leupold heavy scope rings. The scope and rings were mounted on an A.R.M.S. model 19A quick-release rail mount. This setup made it easy to "plug and play" between the two I.O. pistols during accuracy testing. I fired the 9mm pistol first at the 50-yard mark, then went to the 100-yard lane to fire the 5.56 pistol. I was pleasantly surprised with the performance of both I.O. pistols at those distances. The best group for the I.O. M215 ML-7 in 9mm scoring a two-inch group with 115 gr PMC Bronze at 50 yards and the 5.56 pistol scoring a 1.25″ group at 100 yards.
I have had AR pistols like this in the past, and like many others, got rid of them before the current juggernaut of AR short barrels and arm braces. I also have been guilty in the past of wanting a dedicated "sub-gun" and a separate, dedicated, short rifle. The M215 5.56 may work for me in tight places and in cluttered environments. This pistol is also accurate out past 100 yards. I would enhance the 5.56 version with a simple arm brace. I have three or four to choose from in the downstairs cache.I really like the M215 9mm, due to the compatibility with my Glock handguns. To be able to carry that much pistol firepower and come up on target fast with an AR-style pistol in 9mm is both practical and tactical for certain close-quarter situations. I would also enhance the M215 9mm with a simple arm brace so as to engage targets further out. But, I also learned long ago to keep the 9mm round in proper perspective at greater distances. There I go again, wanting two guns.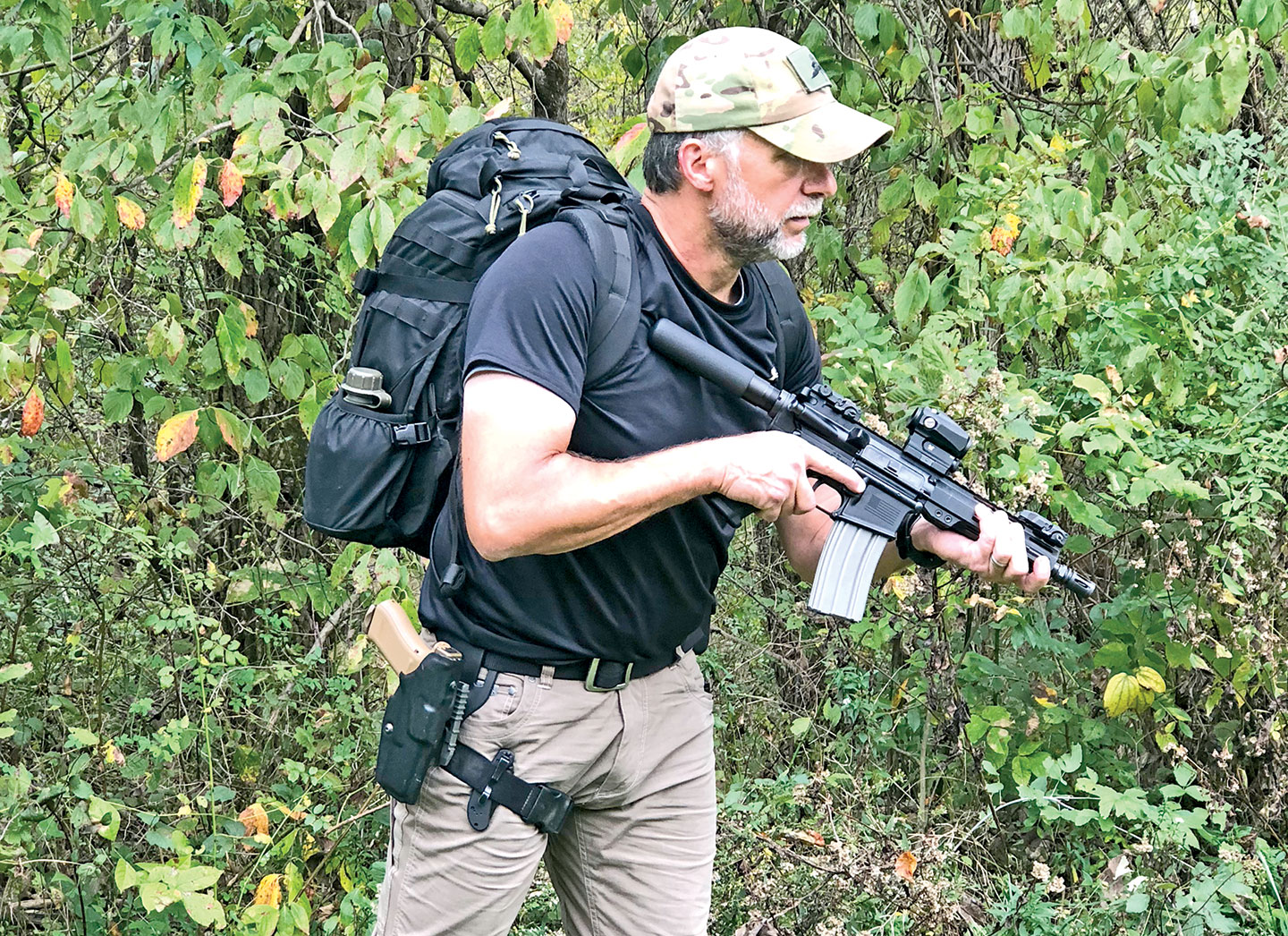 As for Uli and I.O.? I feel this is a step forward for the products of his company. I want to believe the company is past the AK-47 scrutiny of the past. Time will tell. I will continue to push these two AR pistols and report to him any malfunctions or failures. So far though, I have to say these are "good to go!"  SPECIFICATIONS:I.O. INC M215 9MM ML-7
Caliber: 9mm
Overall Length: 23.75 inches
Weight: 5.2 lbs.
Barrel Length: 7.5 inches
Twist Rate: 1:10
Magazine Type: Glock 9mm
LRBHO: No
MSRP: $649.99 I.O. INC M215 5.56 ML-7
Caliber: 5.56x45mm NATO
Overall Length: 23.25 inches
Weight: 5 lbs.
Barrel Length: 7.5 inches
Twist Rate: 1:7
Feed Ramps: M4
MSRP: $528.99 
CONTACT:
Click Here For Original Article By Firearms News:
John 'JD' Morris – November 26, 2018